"Live Your Truth" with Estrogen Symbol Stainless Steel Pendant
Regular Price

$21.00
Sale Price

$21.00

Regular Price
Unit price

(

per

)
Product Info
Embrace and celebrate your identity with our unique "Live Your Truth" with Estrogen Symbol Stainless Steel Pendant. This beautifully crafted piece combines the empowering message of living authentically with the chemical symbol for Estrogen, making it a deeply meaningful accessory for those embracing their femininity or journey in the context of estrogen's significance.
Crafted from shining stainless steel, this pendant is not just striking in its appearance but also durable and resilient, much like the journey it represents. The phrase "Live Your Truth" is elegantly scripted around the scientifically accurate symbol for Estrogen, stamped into the metal. This design choice is both aesthetically pleasing and symbolically powerful, offering an affirmation of identity and the embrace of one's personal journey.
This pendant goes beyond being a mere accessory; it's a badge of honor, a celebration of the steps taken in living authentically, and a reminder of the beauty in embracing one's true self. Whether as a personal keepsake or a gift to someone important in your life, this pendant resonates with a message of self-love, acceptance, and empowerment.
The pendant comes with a 22" chain, providing a comfortable and versatile length that is suitable for everyday wear. The sleek chain complements the pendant's design, ensuring that it sits beautifully and visibly, serving as a constant reminder of the wearer's strength and authenticity.
The "Live Your Truth" with Estrogen Symbol Stainless Steel Pendant is more than just an item of jewelry; it's a statement piece that symbolizes a journey of self-discovery, the importance of embracing one's truth, and the celebration of the role estrogen can play in this journey. It's an ideal gift for yourself or someone special, offering encouragement and recognition of an incredibly personal and meaningful experience.
Our Favorite Collections
We are all about the ring bling at Outer Peace! Check out our amazing collection of LTGBQ+-inspired rings.
Shop Rings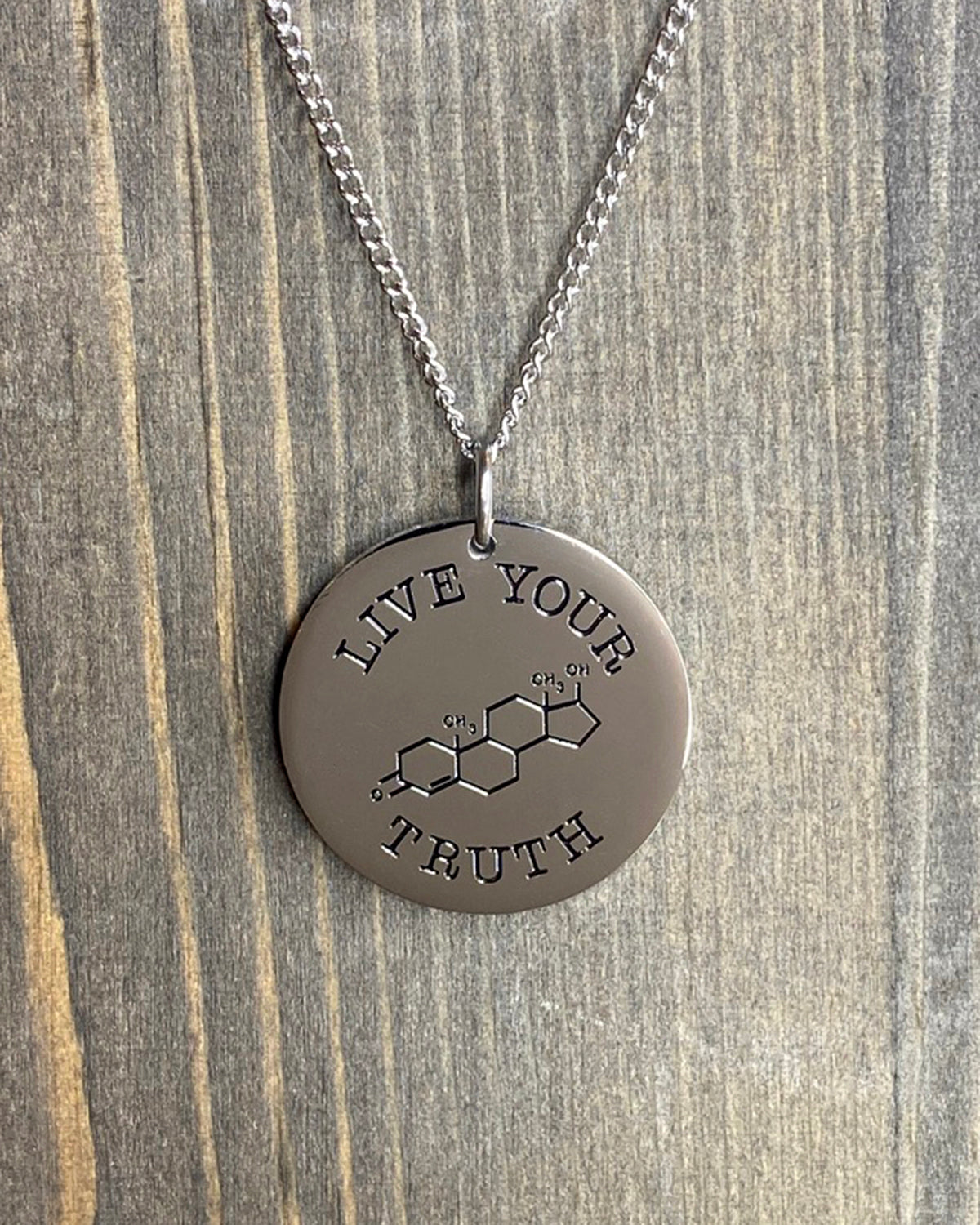 And compliment your ring choice with a superior pendant.
Shop Pendants
In Stock:

42

Weight:

1.5 oz

Product Type:

Pendant

Brand:

Outer Peace Gear

Collection: